Russia missile strikes on Odesa, Kharkiv and the death of two Americans in Ukraine: All you need to know
Chuhuiv, a city in the Kharkiv region of Ukraine was hit by Russian missiles on Monday. The information was made available to the press in a statement released by Kharkiv Regional Prosecutors office.
"Around 03:00 a.m., July 25, 2022, Russian troops launched a missile attack on Chuhuiv, causing destruction to a cultural hall. A 46-year-old woman was injured," the report states.
Seven volunteers who had been cooking for the needy since July were in the building housing the Central House of Culture. Three people reportedly got out on their own while cafe volunteer, Masif Khakimov was rescued and3 pulled out unscratched by rescuers about four hours after the attack.
According to the local Police, anti-aircraft missiles, S-300 hit a school, private yards, destroyed heating networks in one of the neighbourhoods and totally destroyed the arts and leisure centre.
The attack is part of Russia's offensive in its invasion of Ukraine that started as a full-scale assault on February 24. Prior to the full-scale invasion, Russia had ordered troops into Luhansk and Donetsk recognizing both of them as independent states. The recognition was followed with US sanctions on the Kremlin-controlled VEB bank and PSB bank, Germany's halt of the Nord Stream 2 pipeline certification process, and the European Union freezing of the assets of 351 Duma members.
Latin America bridge?
Guatemala's President, Alejandro Giammattei met with Ukraine's President, Volodymyr Zelenskyy on Monday making him the first Latin American President to visit the distressed country since Russia launched a full-scale invasion against it. While some Latin American countries criticized Russia, many maintain neutrality reflecting decades of ties to Russia and sensitivity towards US response.
Rusia ha optado por la guerra como medio para resolver conflictos. Desde Chile condenamos la invasión a Ucrania, la violación de su soberanía y el uso ilegitimo de la fuerza. Nuestra solidaridad estará con las víctimas y nuestros humildes esfuerzos con la paz.

— Gabriel Boric Font (@gabrielboric) February 24, 2022
Chile's President condemns Russia
We call on the US and NATO to seriously & realistically heed the well-founded demands for security guarantees by Russia, which has the right to defend itself.#Cuba calls for a diplomatic solution through constructive & respectful dialogue.

Declaration: https://t.co/jDcJ5aM4u4 pic.twitter.com/4gfkdRiTS0

— Bruno Rodríguez P (@BrunoRguezP) February 23, 2022
Cuba calls for diplomacy
Giammattei during his visit to Kyiv re-affirmed his support for Ukraine.
"We stand in solidarity with the Ukrainian people, who have resisted with courage," Giammattei said at a joint news conference. "As long as human lives are lost, we cannot silence our voices."
"Let it be clear that since the beginning of this conflict, Guatemala has raised its voice," he said. "We will always be consistent with our words. Guatemala does not and will not remain silent."
"Ukrainian diplomacy is gradually opening up new broad directions for our society – Central and South America, Africa, countries of the Arab world, South and Southeast Asia," Zelenskyy said.
"I am grateful to Guatemala and Mr. President Giammattei, with whom I held talks today, for the principled and consistent condemnation of Russian aggression and participation in the defence of the international legal order," he added.
Guatemala's leader @DrGiammattei paid a historic visit to Kyiv today and met @ZelenskyyUa. My Guatemalan counterpart @MarioBucaroGT and I signed a visa-free agreement and a memorandum on cooperation between diplomatic academies. Ukraine and Guatemala enjoy excellent relations 1/2 pic.twitter.com/FKriAHtDOS

— Dmytro Kuleba (@DmytroKuleba) July 25, 2022
Odesa Port
Russia's missile also hit the Southern Port of Odesa, Ukraine barely 12 hours after both warring countries signed a deal to allow monitored grain exports from Ukraine's southern ports. With cruise missile strikes, Russia targeted Odesa through which shipment would take place.
Reacting to the attack, Zelenskyy called it an act of "barbarism" citing that Russia cannot be trusted to respect the agreement. "This proves only one thing: no matter what Russia says and promises, it will find ways not to implement it," he said.
The attack drew strong condemnation from the United Nations, the European Union, the United States, Britain, Germany, and Italy.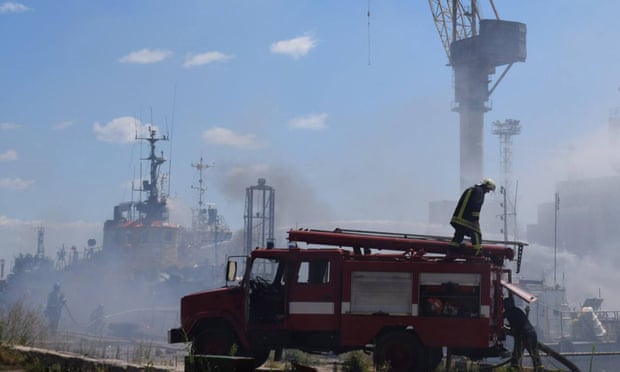 "This attack casts serious doubt on the credibility of Russia's commitment to yesterday's deal," US secretary of state, Antony Blinken, said in a statement.
"Russia bears responsibility for deepening the global food crisis and must stop its aggression," he added.
The attack was one of a series of Russian strikes across Ukraine, with the city of Kropyvnytskyi hit by 13 missiles on Saturday morning. The local governor, Andriy Raikovych, said at least one serviceman and two guards were killed, while 13 other people were wounded in Kropyvnytskyi.
Italy worried over national elections
The head of Italy's centre-left Democratic Party (DP) has expressed concerns over the possibility of Russia interfering in  Italy's national elections with fake news and propaganda.
Italian Politician, Enrico Letta who leads a grand coalition of centre-left and centre-right parties said he wants Italian intelligence agencies and the European Union's disinformation unit to monitor the two-month election campaign and prevent outside interference.
"I am launching this red alarm for the good of the country, but also for the good of Europe," Letta told the Reuters news agency
There is no evidence provided that Russia will interfere in the elections.
Two Americans killed in Ukraine
The US State Department confirmed the death of two Americans in Ukraine on Friday. No names were given and no further details were provided.
A South Carolina man serving as a medic in the Ukrainian military was identified by his commanding officer over the weekend as one of two Americans killed in action last week.
Luke "Skywalker" Lucyszyn, a 31-year-old Myrtle Beach resident, died on July 18 in the eastern Donbas region after he was knocked unconscious by an artillery attack and fatally shot by a Russian tank, his commander, Ruslan Miroshnichenko, wrote on Facebook.
The US State Department confirmed the deaths of two Americans in Ukraine on Friday but did not release their names or further details. Family and friends have confirmed reports that Lucyszyn was one of the men who died.
Miroshnichenko identified the other American as Bryan Young; additional information about Young was not immediately available on Monday. [Aljazeera]
About Author